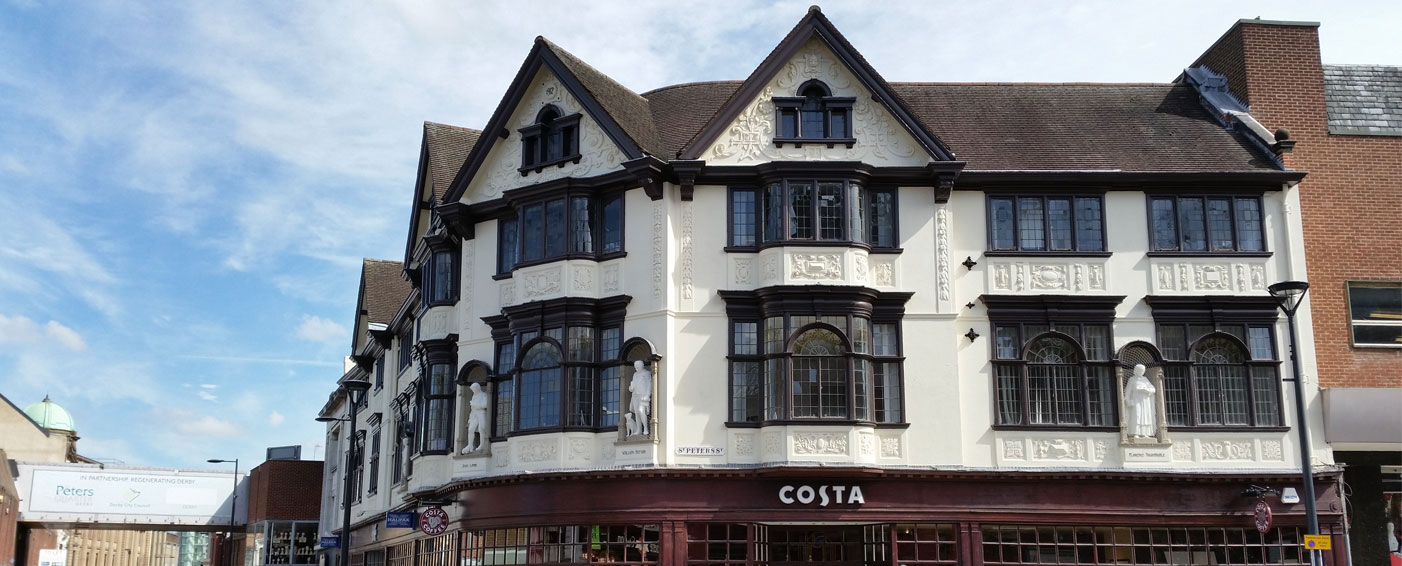 45 St Peter Street
Derby
In 2016 Bench Architects were highly commended by Derby City Council's George Rennie Award, as specifiers for the sympathetic restoration of The Halifax Bank, St. Peter's Street, Derby.
This wonderful example of a 1912 Boots Cash Chemists Ltd was by philanthropist LORD TRENT, who commissioned architects Percy Morely Horder and Albert Bromley. The building was modelled on 17th Century designs with decorative barge boards, pargeting and tri-partite oak-windows. Four niches at first-floor contain statues of notable figures: Jedediah Strutt, John Lombe, Williamm Hutton and Florence Nightingale.
Horder was articled to Arts & Crafts Architect George Devey, who revived the art of Jacobean decorative pargeting. Horder designed shops for Boots the Chemist (at Bristol, Lincoln, Windsor Brighton and Regent Street, London). Through his friendship with Sir Jesse Boot he obtained the commission to design the buildings at University College, Nottingham from 1922-28.
Bench Architects provided conservation and repair specifications to Mitie Plc. These comprised oak structural timber and joinery repairs; design, preparation and application of parget plaster repairs; paint analysis to determine original decorative schemes and reuse of traditional paint recipes including linseed oil paint & quartz mineral paint.