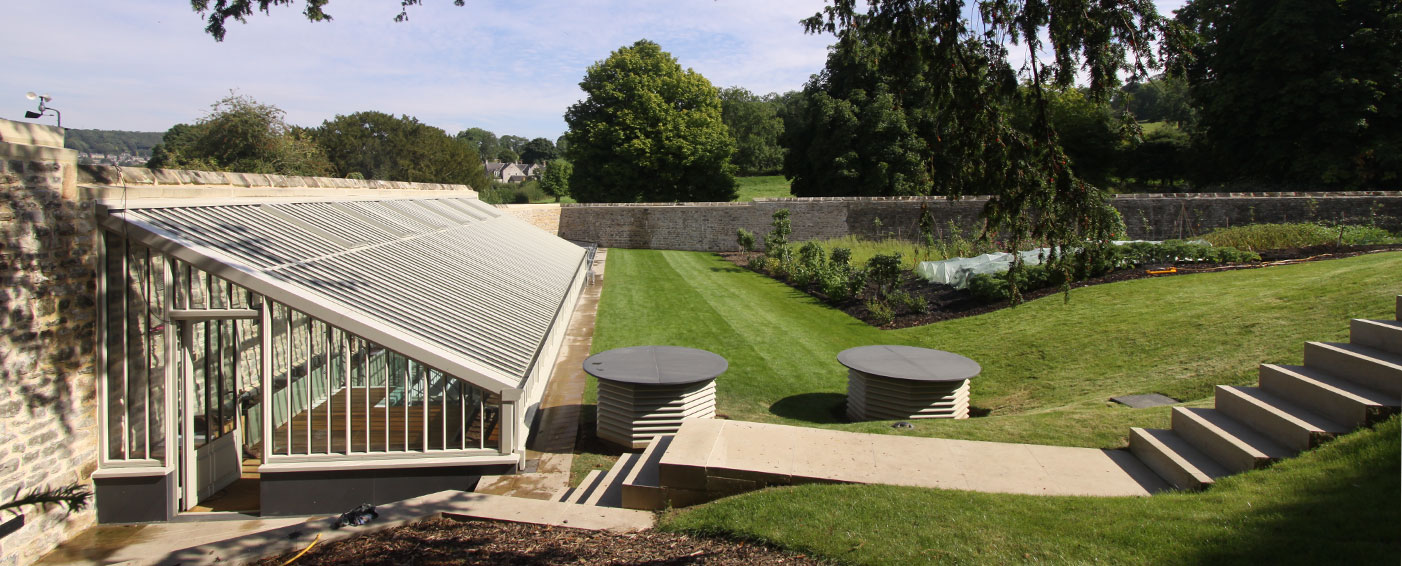 Snitterton Pool
Matlock
Snitterton Hall is an immaculately preserved 16th Century Elizabethan manor house, now grade I listed.
Bench Architects were commissioned by the hall's owner to design and supervise the construction of a new swimming pool house within the grounds. An assessment of potential locations identified the site of a former mid-18th to early 19th Century glasshouse which had been built against a stone boundary wall within the former orchard and productive garden.
A design was developed which proposed a contemporary reinterpretation of the former glasshouse and growing frames, based on fragments of the former structure which remained embedded in the garden wall. The new glasshouse provides access to, and daylight for a completely subterranean pool house. The combination of the carefully chosen site and discreet appearance of the new glasshouse allowed this substantial new intervention to be constructed without impacting the setting of the hall itself.
The stone walls, themselves grade II listed but in poor condition, were tagged and recorded stone-by-stone before being dismantled and rebuilt, incorporating the structure and servicing necessary for the pool house.
The use of earth-sheltered and green-roofed waterproof concrete construction allows the pool house to extend invisibly beyond the limited footprint of the glasshouse and growing frames. In total more than 2500m³ of excavation was required.
A comprehensive environmental strategy was developed, incorporating solar-integrated photovoltaic panels and air source heat pumps.
The project was shortlisted for the RIBA East Midlands Awards.